"Excellent partnership in planning and execution of the event - a pleasure to work with!"
Alina Parast, CIO, ChampionX
Context
With 7,000 global team members, ChampionX is a global leader in technology solutions for the oil and gas industry.
Their teams deliver forward-thinking innovations, unmatched global supply chain capability, and market-shaping solutions in reservoir, drilling, production, midstream, and water applications. With a purpose to improve lives through a commitment to deliver globally sustainable operations, ChampionX seeks to set itself apart in every possible way.
When the topic of bringing remote teams together to celebrate progress, communicate vision, and set goals for the future arose, ChampionX was looking for an event solution that broke beyond the typical confines of a conference call. The ChampionX team wanted a virtual space that captured the day-to-day work its team does to keep the company moving forward. This space would soon become home to three of ChampionX's virtual employee conferences:
The Continuous Innovation Conference (2021, 2022)
Financial Excellence Conference (2022)
Global Supply Chain Conference (2022)
In collaboration with Imaginate, the following customized ChampionX event space was designed to accommodate up to 1,000 employees all in the same building with the capacity to autonomously network and mingle.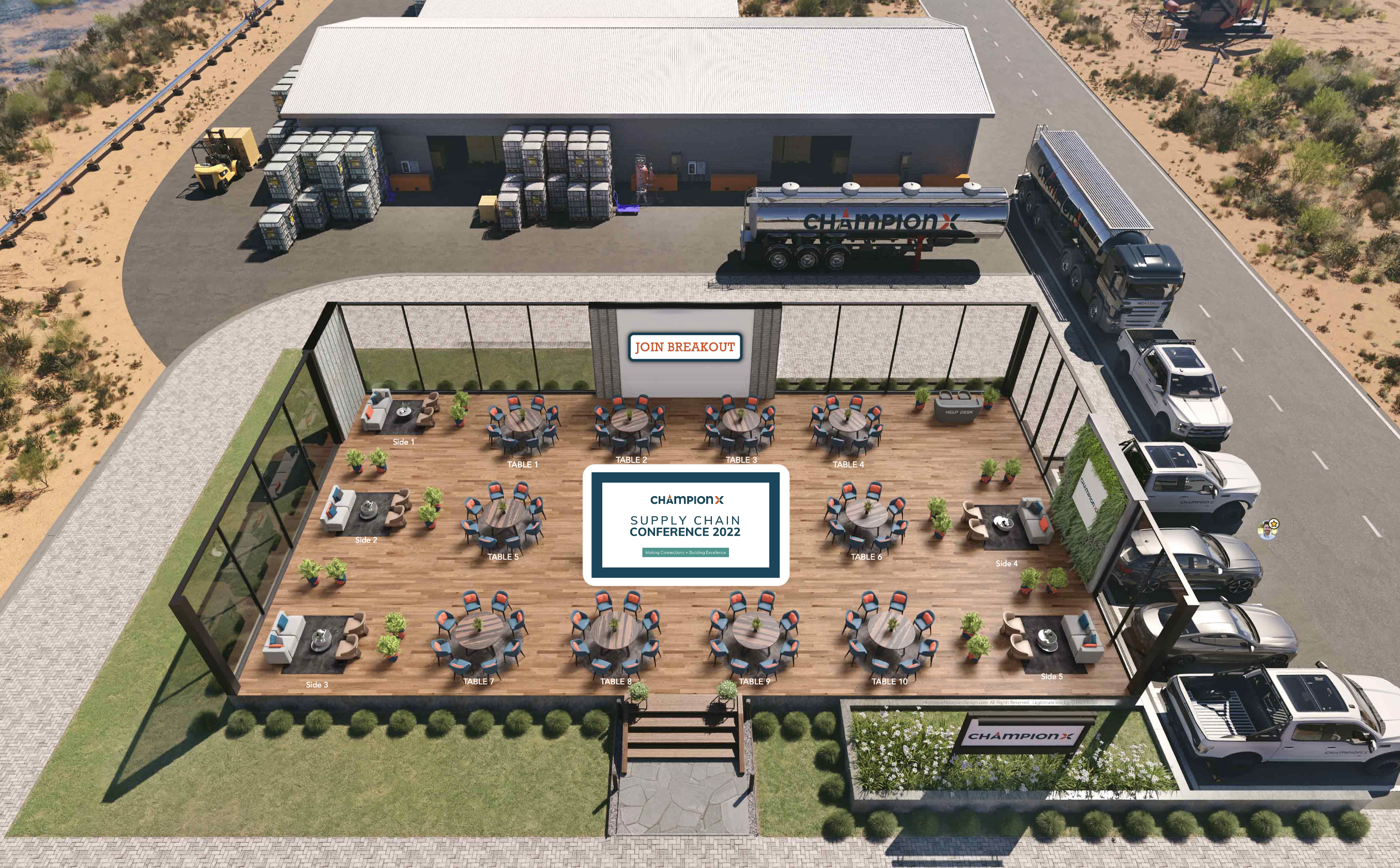 By designing a photorealistic replication of an actual Texas-based plant, this table-based environment brought employees out of a "call" mentality and into a "place" where they could socialize and discuss the conference topics. This layout featured:
The ability to move freely in the event and connect with colleagues
Detail-rich design and event branding placed throughout the environment
Remote access for attendees to tune-in from anywhere and experience the content
Breakout buttons embedded into the floor for custom calls-to-action
Setup
Imaginate worked closely with the ChampionX conference and events teams to design the environment, complete with a custom rehearsal demo space to allow guests and presenters to familiarize themselves with the technology beforehand.
Leading up to the event, the Imaginate team gave additional focus to assisting in registration and pre-event communication. By providing clear language and ample troubleshooting tips, attendees were well-prepared to tune in remotely and maximize their experience.
Imaginate also provided registration and custom email reminder services—sent out in two-week, one-week, and 24-hour intervals, per ChampionX's request, to all registered attendees.
The conferences followed a repeatable cadence: beginning in Table Mode with a full view of the attendees present and then transition to Presentation Mode, where the speakers and executives could present, hold Q&A, and dialogue with attendees.
Throughout the event, attendees could applaud, chat, and interact with the content. Using a mixture of professionally pre-produced videos and live speakers, ChampionX consistently went above and beyond to create an event that underscores its commitment to excellence in the workplace.
Imaginate was proud to serve ChampionX with the following event services:
Customized Photorealistic Event Space & Platform White-Labeling
Full A/V Presentation Delivery
Pre-Event Invitations, Email Reminders, & Tutorials
Technical & Presenter Rehearsals
Live In-Event Help Desk
Graphic Design & Video Editing Services
Post-Event Data Collection & Attendance Reports
Results
From the office of internal communication, ChampionX rated its events and experiences working with the Imaginate team a 10/10, describing in detail the quality of service it has come to expect whenever another national or global remote event is necessary:
"It's always a pleasure working with the Imaginate team. They offer white glove service and we've been pleased with them every step of the way. They have a way of calming anxiety, quick troubleshooting and putting together comprehensive day of event plans. The event platform is easy to use and our employees have been impressed with the design of the event spaces."
- Matt Welnack, ChampionX